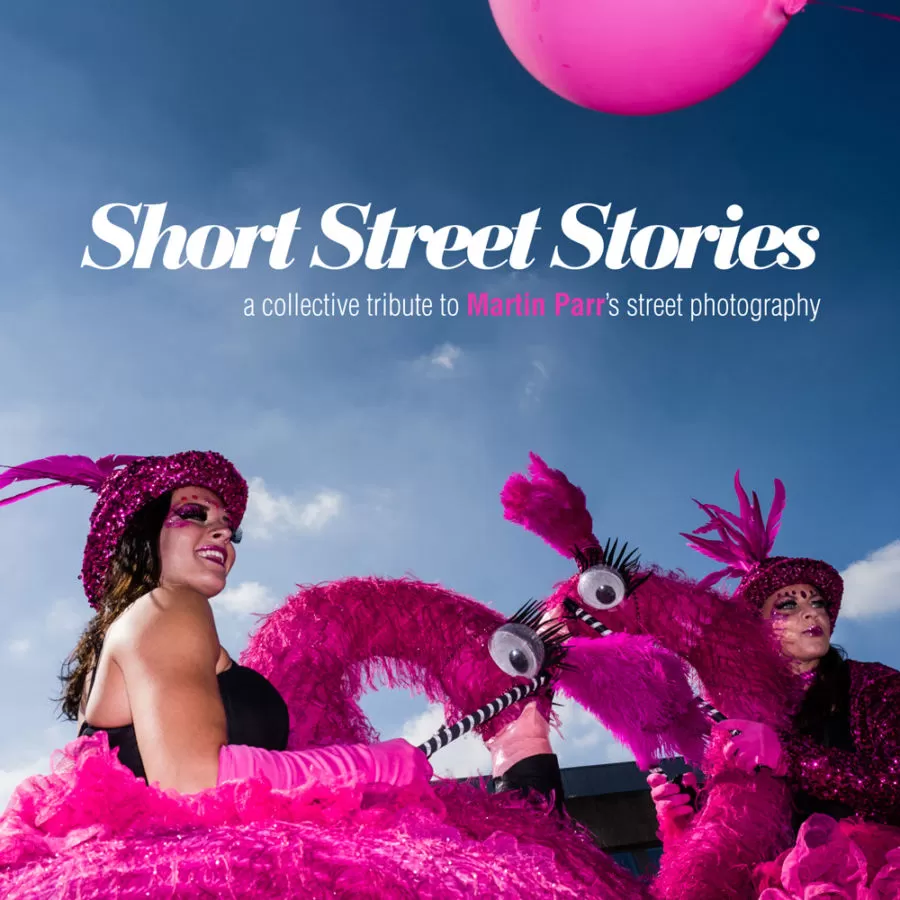 First official news for Short Street Stories! We are finally able to announce the "team" of over 170 authors from all over the world selected for this ambitious tribute to the satirical street photography of Martin Parr and Nick Turpin. You can find it at the end of the article. First we want to reveal the cover of the photographic volume of Short Street Stories, which features a photo of the Dutch author Giedo van der Zwan.
The book, currently in production, will be published in November and premiered on Saturday, October 26, 2019 at Trieste Photo Days, Italy, in the presence of the two authors the project wants to pay homage to: Martin Parr and Nick Turpin (Turpin is also "special guest" of the project with a series of photos opening the volume).
Starting from October 24, always during Trieste Photo Days 2019, the great international collective exhibition will be set up with the best photos of Short Street Stories in the "U. Veruda" Hall of Palazzo Costanzi, a step away from Piazza Unità, in the heart of Trieste (see map below).
Short Street Stories follows the success of the first two original projects by Exhibit Around: Urban & Human Empathy (2017) and Flowing City (2018), which brought together 49 and 69 photographers from all over the world respectively.
La Sala "U. Veruda"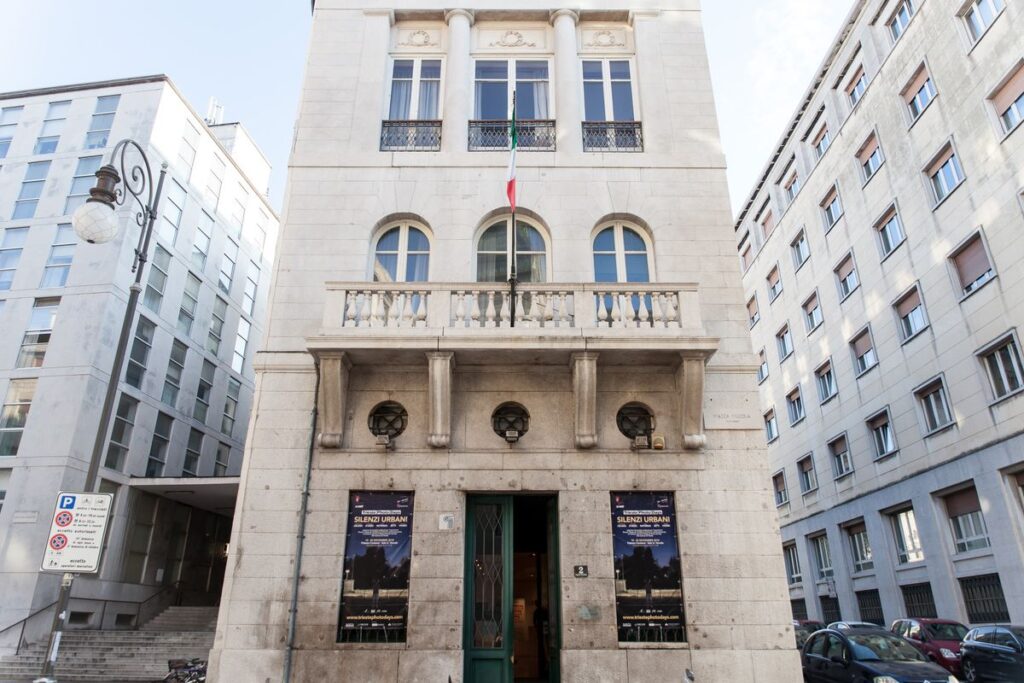 ---
Short Street Stories authors
Adam Riley
Adria Paez Forteza
Adriano Nicoletti
Alessandro Secondin
Ambra Mariani
Andrea Comino
Andrea Scirè
Anil Purohit
Anna Martynenko
Annu Esko
Antonino Orlando
Barbara Francoli
Barry Gilbert-Miguet
Bartek Busz
Beppe Castellani
Birgit Lu Mazen
Carla Cosenza Mormile
Carla Fiorina
Carlo Pellegrini
Carolina Ardi
Cecilia Luevano Guerrero
Christophe Vandon
Claudio Aresi
Claudio Aresi
Colin Page
Cristina Morettini
Damian Milczarek
Dan Fenstermacher
Daniele Dal Pozzolo
Dariusz Madziński
Darran Roper
David Legreve
Dean Forbes
Douglas Ljungkvist
Edward Emmett
Elisa Tomaselli
Eltaj Zeynalov
Emanuele Vincenzi
Enrico La Bianca
Enza Verzì
Eric Davidove
Fabio Castellani
Fabrizio Picca
Flaviano Ettore D'Erasmo
Francesca Chiacchio
Francesca Gernetti
Francesco Centore
Georg Worecki
Gerardo Aguilar
Giancarlo Staubmann
Gianni Olivetti
Giedo Van Der Zwan
Giorgio Martinale
Giulia Coppetti
Giuliana Mariniello
Giulio Bonivento
Giulio Fabbri
Giuseppe Sabella
Guillermo Franco
Hal Padgett
Hans Franz
Hiroyuki Matsumoto
Ilan Burla
Iren Janosi
Ivan Paniotov
Jessica Di Benedetto
Jonas Grauel
Josh Putt
Juan Rodríguez Morales
Julian Rovagnati
Kae Young Lee
Karl Dedolph
Katarzyna Urbanek
Kevin O'Connell
Kip Harris
Krisztian Tota
Liliana Ranalletta
Lorenzo Fasola
Lorenzo Giaccone
Lorenzo Grifantini
Lorenzo Leone
Luca Gaidano
Luca Iacono
Luca Lorenzi
Luca Paccusse
Lucas Sanchez
Luis Marin
Malgorzata Mikolajczyk
Mara Scampoli
Marci Lindsay
Marcin Maziej
Marcin Piekalkiewicz
Marco Criniti
Marco Di Noia
Marco Espertini
Marco Forcina
Marco Parenti
Maria Ricossa
Marijon Walter
Marsha Guggenheim
Massimiliano Camellini
Massimiliano Maddalena
Massimo Della Latta
Massimo Marchetti
Massimo Nardi
Massimo Tabasso
Massimo Tamberi
Mathias Wasik
Matt Roberts
Matthias Gödde
Mattia Pasini
Maureen Miller
Max Sturgeon
Meletios Vasileiou
Merethe Wessel-Berg
Michael Kofteros
Michael Kowalczyk
Mikhail Kapychka
Natascha Auenhammer
Natawut Onra-In
Nathanaël Fournier
Never Edit
Nicola Paccagnella
Nick Turpin
Nino Evola
Olah Laszlo-Tibor
Orietta Masala
Paolo Cossich
Patrick Dreuning
Patrick Zélis
Patrizio Broggi
Paul Kessel
Peer Heesterbeek
Pericles Loucopoulos
Pia Parolin
Pierre Marino-Smette
Pygmalion Karatzas
Radek Kozak
Radosław Surowiec
Radu Patrascu
Rebecca Wiltshire
Reimund Schmidt-De Caluwe
Ricardo Pareyon Aveleyra
Rob Krauss
Robbi Montgomery
Roberta Ferranti
Roberto Macagnino
Roland Groebe
Ryan Hardman
Salvatore De Rosa
Samuel Dossi
Sandra Hernández
Sebastien Durand
Sergey Medvedchikov
Sergio Perez
Simone Mestroni
Stefano Paganini
Stefanos Chronis
Svetlin Yosifov
Thibaut Goarant
Thomas Dryden-Kelsey
Tomasz Kaczorek
Uli Kaufmann
Valentina Bassi
Valentina Bollea
Valentina Di Mauro
Vedrana Devic
Viet Van Tran
Waldemar Ostrowski
Warun Siriprachai
Ximena Echague
Yeadon Yeadon
Yuro De Iuliis
Zbigniew Brzozowski