After a careful selection work, we are finally ready to reveal the first details of the Tales of the Unwritten volume, the tribute to street photography that we will preview at the Trieste Photo Days 2021 festival together with the opening of the collective exhibition with the best of the project .
189 photographers from all over the world are part of the project,together with the selected authors of the street photography collectives involved in the project: BULB Photos, iN-PUBLiC, Observe Collective, Un-posed, VoidTokyo and Women Street Photographers. Find the names of all the authors at the bottom of the page.
Cover photo by Karolina Trapp , from Women Street Photographers collective.
The Tales of the Unwritten book will be printed in a deluxe limited edition with, paperback binding, size 22×22 cm. We will open the book pre-orders very soon!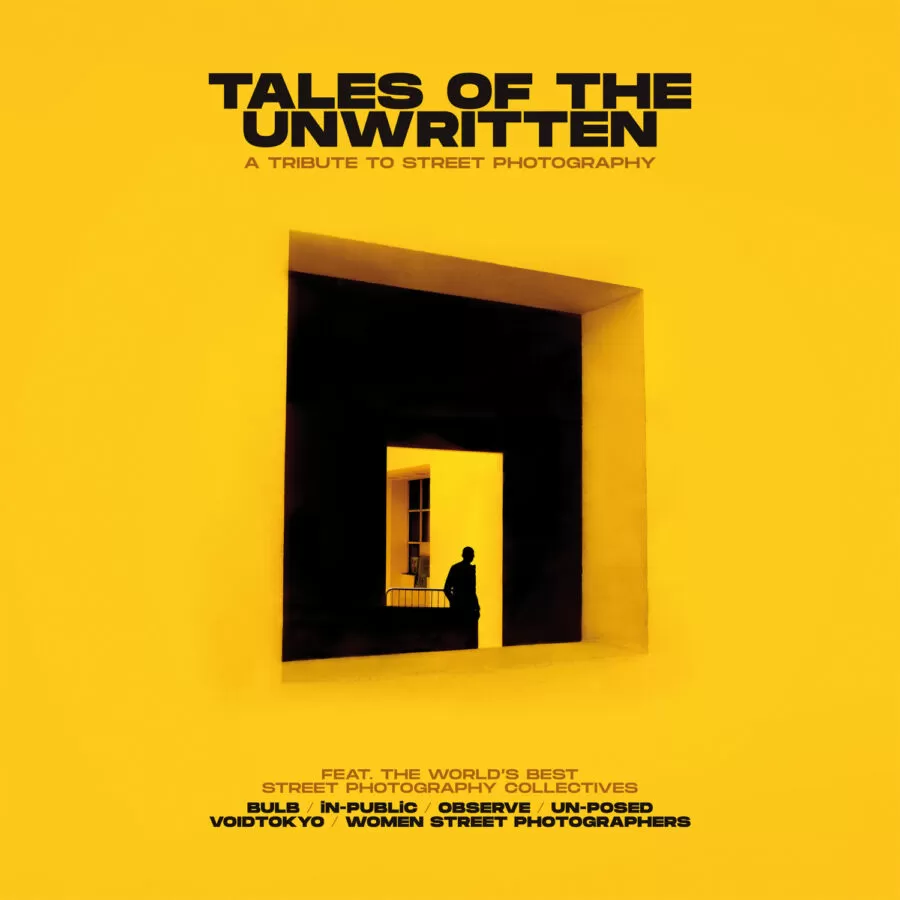 Bulb Collective: Alexandros Tsiolis | Alphan Yilmazmaden | Bogdan Comisel | Diana Maria | Eleni Rimantonaki | Jens Krauer | Laszlo-Tibor Olah | Michail Moscholios | Panagiotis Kalkavouras | Svilen Nachev | Ventsislav Lalev | Vicky Markolefa
---
iN-PUBLiC: Aniruddha Gaha Sarkar | Jill Maguire | Natan Dvir | Natan Dvir | Nick Turpin | Nick Turpin | Nils Jorgensen | Pau Buscato | Richard Baker | Rob Hogenbirk | Streetmax21 | Troy Holden
---
Observe: Danielle Houghton | David Horton | Greg Allikas | Guille Ibanez | Ilya Shtutsa | Kristin Van Den Eede | Larry Cohen | Larry Hallegua | Marcelo Argolo | Michael May | Ronen Berka | Tom Young
---
Un-posed: Ania Klosek | Damian Chrobak | Jamie Fyson Howard | Maciej Dakowicz | Marta Rybicka | Monika Krzyszkowska | Tomasz Kulbowski
---
VoidTokyo: Ash Shinya Kawaoto | Hiroki Fujitani | Kawara Chan | Tadashi Onishi | Tadashi Yamashita | Tatsuo Suzuki
---
Women Street Photographers: Andrea Torrei | B Jane Levine | Efrat Sela | Elena Alexandra | Fernanda Bayler | Graciela Magnoni | Gulnara Samoilova | Karolina Trapp | Melissa O'Shaughnessy | Niki Gleoudi | Regula Tschumi | Sandra Cattaneo Adorno | Ximena Echague
---
Authors: Adele Dalla Pozza | Adolfo Turati | Adree Chan | Alberto Mesirca | Aleksandr Gorban | Alessandro Ledda | Alessandro Manzo | Alessandro Sarti | Alessia Peretti | Alex Flynn | Alex Righetti | Alexandre Chaym | Alida Volpi | Aline Schoder | Allan Syphers | Amir Ali Navadeh Shahla | Anat Shushan | Andrea Camoletto | Andrea Cova | Andrea Ferro | Andrea Maini | Andrea Torrei | Andrew Wajs | Andrzej Dragan | Angelo Bonarelli | Anna Piwowarska-Sosik | Antoine Buttafoghi | Antonino Clemenza | Antonino Evola | Antonis Giakoumakis | Barry Gilbert-Miguet | Benson Spiers | Beppe Castellani | Brad Jones | Brandon Byeongbeom Kim | Caterina Mattana | Cath Muldowney | Catherina Dominguez | Cedric Thach | Chiara David | Claudia Roffeni | Clement Hong Yui Chan | Colin Page | Cristian Prieto Ávila | Cristiano Di Gioia | Dan Fenstermacher | Daniel Craig Johnson | Daniel Ramos | Daniele Ficarelli | Diego Bardone | Diego Ravalico | Dimitris Mytas | Eduard Maiterth | El Taghdouini Mehdi | Eltaj Zeynalov | Emanuele Vincenzi | Enrica Ridolfi | Enrique Medina Bravo | Eric Davidove | Ester Pertegato | Estevão Lafuente | Eugene Golubev | Federico Imperiale | Filip Machac | Francesca Berardi | Francesca Codogno | Francesco Cremonese | Francesco D'Alonzo | Franco Ameli | Franco Luigi Beretta | Frédéric Blondel | Gábor Hegyi-Kovács | Gabriele Lopez | Genny Ferro | George Emil Odthermat | Gerhard Wagner | Giovanni Nicolosi | Giuliana Mariniello | Giuseppe Caridi | Giuseppe Francavilla | Guy Needham | Harry Giglio | Helmut Oberritter | Hezy Holzman | Hrayr Attarian | Immacolata Giordano | Inge Colijn | Jacopo Renzi | James Abell | Jana Estocinova | Jean-Pierre Vets | Jim Lustenader | Jobit George | Jodi Rogers | Johan Brooks | Jonas Beck | Jonathan Macagba | José María Gallardo | Julie Kerbel | Keith Prue | Kolimbet Oleg | Kristina Romakh | Laura Pierangeli | Lello Fargione | Lorenzo Giaccone | Luca Paccusse | Luca Regoli | Luciano Cannella | Lukasz Zietara | Lyndon Johnson | Małgorzata Mikołajczyk | Marcello Mariella | Marci Lindsay | Marco Biancardi | Marco Marcone | Marco Parenti | Marcy Cohen | Maria Grazia Castiglione | Maria Luisa Malheiro Rodrigues | Mark Daniel Prohaska | Martin Kesting | Massimo Tabasso | Matteo Capone | Matteo Maurizio Mauro | Mattia Pasini | Maude Bardet | Mauro Marletto | Megumi Otsuka | Meletios Vasileiou | Melvin Anore | Michael Goldrei | Michael Kofteros | Never Edit | Nicola Daddi | Ognjen Karabegović | Orietta Masala | Paola Bet | Paolo Quadrini | Patricia D Richards | Paul Kessel | Péter Király | Peter Salzmann | Philippe Chung | Philippe Sarfati | Pia Parolin | Pier Luigi Mariotti | Radek Kozak | Ralf Temporale | Reimund Schmidt-De Caluwe | Remigijus Scerbauskas | Ricardo Pareyon Aveleyra | Riccardo Gabriolo | Richard Morgan | Roberto Macagnino | Roberto Malagoli | Rod Higginson | Romanov Anni | Samantha Degrassi | Sandra Hernandez | Saxon Baird | Sean Bonner | Sean Slater | Sebastiano Ciancio | Sebastien Durand | Sergei Shcherbakov | Sergey Belov | Sergey Tesker | Shelley Corcoran | Shinichi Yamamoto | Silvana Gallio | Simona Nobili | Stefano Claudi | Stefano Violante | Steven Edson | Susan Cardona | Sven Delaye | Syarafuddin | Syndi Pilar | Takaaki Ishikura | Tania Barbagli | Theo Tajes | Tomislav Marcijuš | Tzen Xing | Umberto Cenedese | Valentina D'Alia | Vasileios Giannousis | Waldemar Ostrowski | Weilun Sheng | Yamile Alfaro Picco